Ximenia - Premium WordPress Corporate Business Theme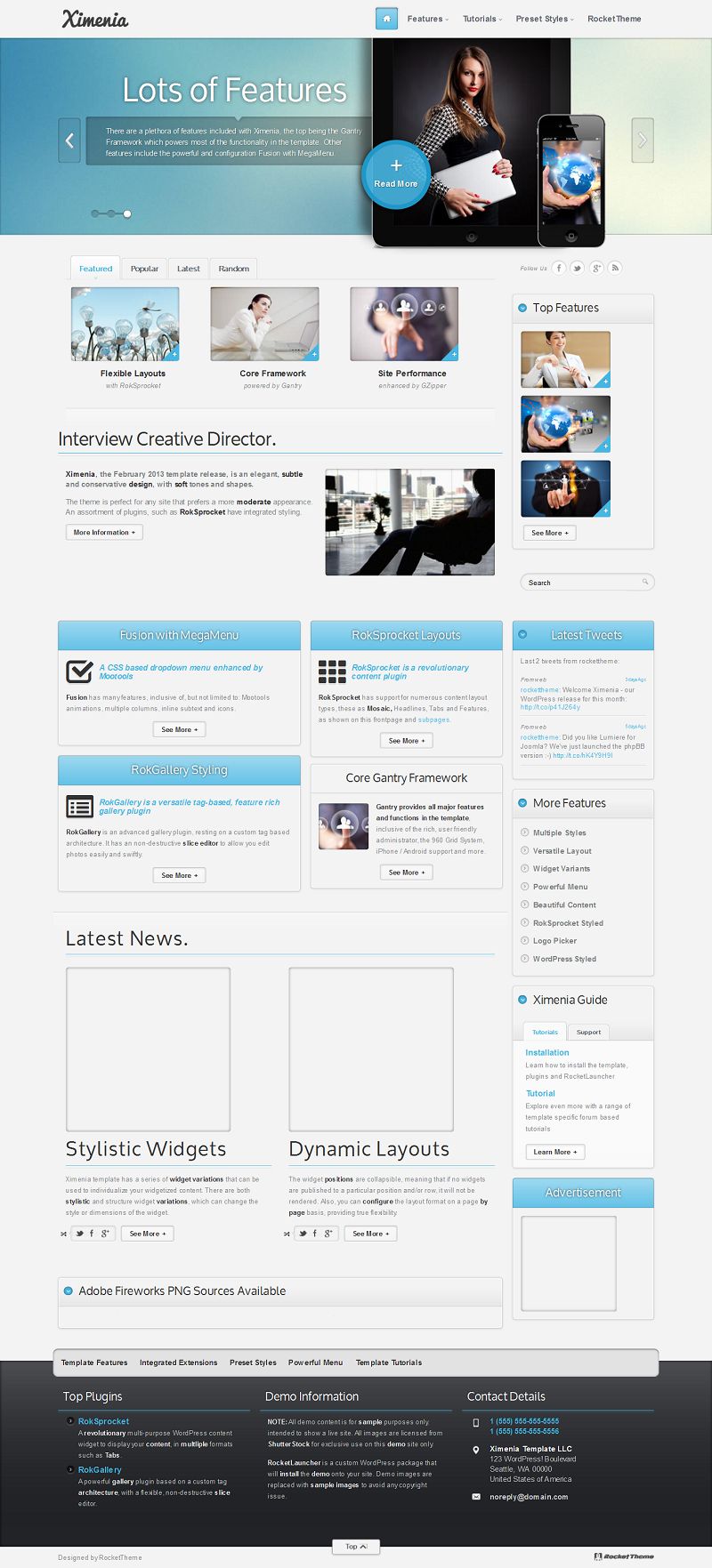 Ximenia is an elegant, subtle and conservative premium WordPress theme from RocketTheme club, released in February 2013. This theme comes with soft tones and shapes to bring focus to your content. Ximenia theme is suitable for any corporate-type business websites that prefers a moderate, visually luring appearance.
Ximenia WordPress theme has eight beautifully designed style variations that capture the balance between luring visuals with soft and subtle undertones. Utilizing dynamic layouts and module suffixes, you can easily shift the intensity of design. This template has styled support for all RokSprocket Layout modes, which includes Moasic, Features, Tabs, Lists and Headlines. RokSprocket is an all-in-one content widget with a rich user interface for easy setup. There are a plethora of features included with Ximenia, the top being the Gantry Framework which powers most of the functionality in the template. Other features include the powerful and configuration Fusion with MegaMenu.
Features:
Responsive Layout
8 Preset Styles
82 Widget Positions
10 Styled and 25 Structural Widget Variations
Extensive RokSprocket Integration
Powerful Core Gantry Framework
iPhone/Android viewing support
Custom Content Typography
Fusion MegaMenu & Splitmenu
Load Transitions
FF, Safari, Chrome, Opera, IE7+ Compatible
W3C XHTML 1.0 / CSS Valid
Purchase Options:
Join the RocketTheme WordPress Theme Club to download all of the wordpress themes developed by RocketTheme for a Small membership fees as low as $50
Tagged with: responsive wordpress theme , wordpress business template , wordpress business theme , wordpress corporate theme
---