Magnificent Premium WordPress Theme from Elegant Themes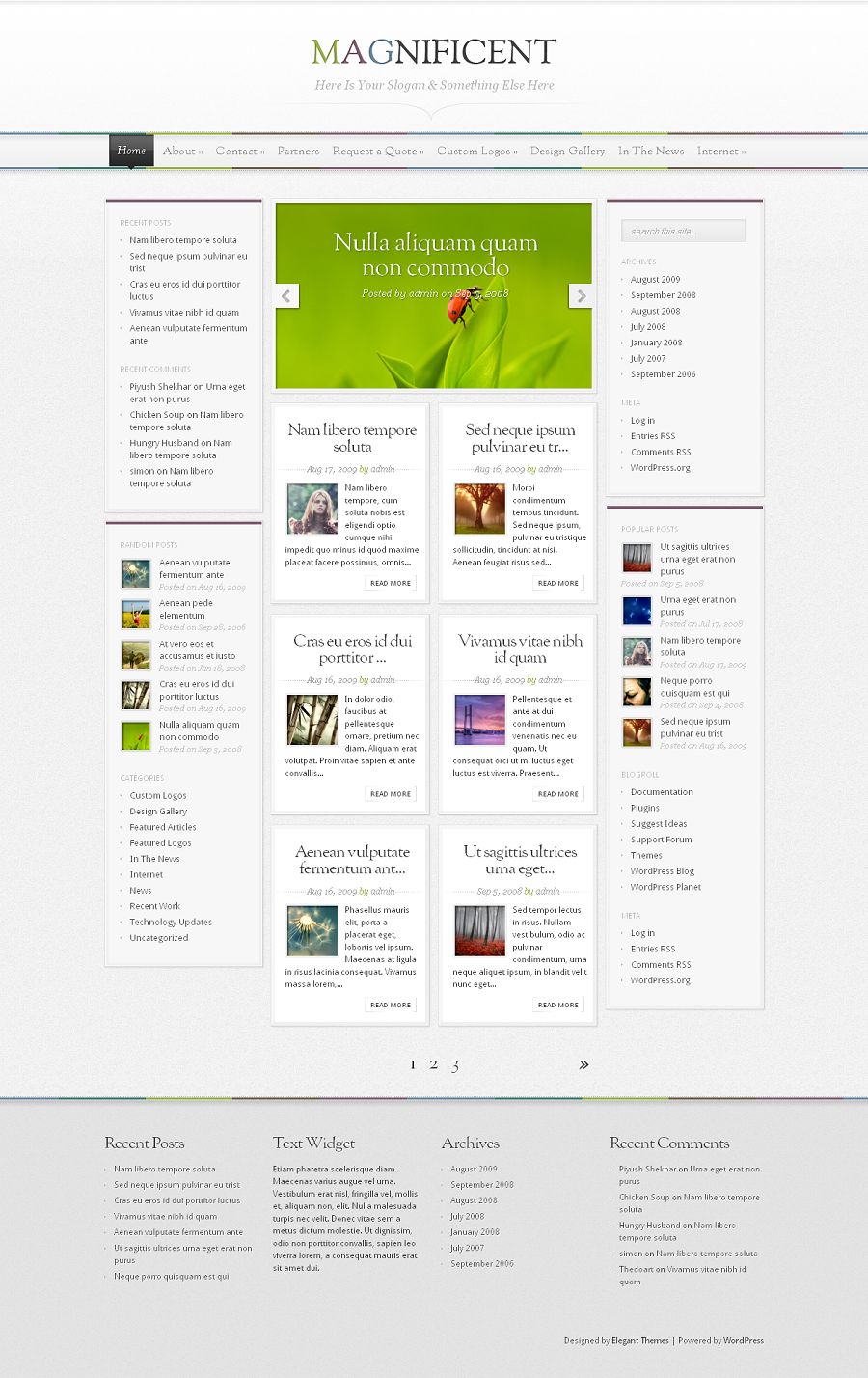 Magnificent is a Magazine-style WordPress theme comes with a multi-column, content-rich homepage. This Theme features a four-column homepage with 5 widget ready areas, you have many opportunities to customize your content display. The theme also features seven different color schemes, which means there is surely a style that will suite your needs.
Features:
7 Colorschemes – include a few variations of the default light style (Green, Red and Blue), as well as a few more unique variations titled Wooden, Lights and Radiate.
The homepage features a 3-column, centered layout not found in any of our other themes. It also includes 5 widget-ready areas, giving you many opportunities to customize the content display.
Magnificent comes integrated with ePanel Theme Options, giving you increased control over your website.
Shortcodes Collection
Magnificent comes with a full width page template that will remove the sidebar from specified pages and extend your content the full width of the theme.
Opera compatible
Netscape compatible
Safari compatible
WordPress 3.0 compatible
Seven Color Schemes
Threaded Comments
Optional Blog-style Structure
Gravatar ready
Firefox compatible
IE8 + IE7 + IE6 compatible
Advertisement Ready
Widget ready sidebars
Theme Options Page
Custom thumbnail images
PSD files
Valid XHTML + CSS
Smooth tabless design
Price: $69.00
Get all 87+ current and future WordPress themes from Elegant Themes with a single membership for just $69.00 / Year or get lifetime access for $249.00!
View More Details
Tagged with: wordpress magazine theme
---