Ves Store - Responsive Magento Electronics Store Theme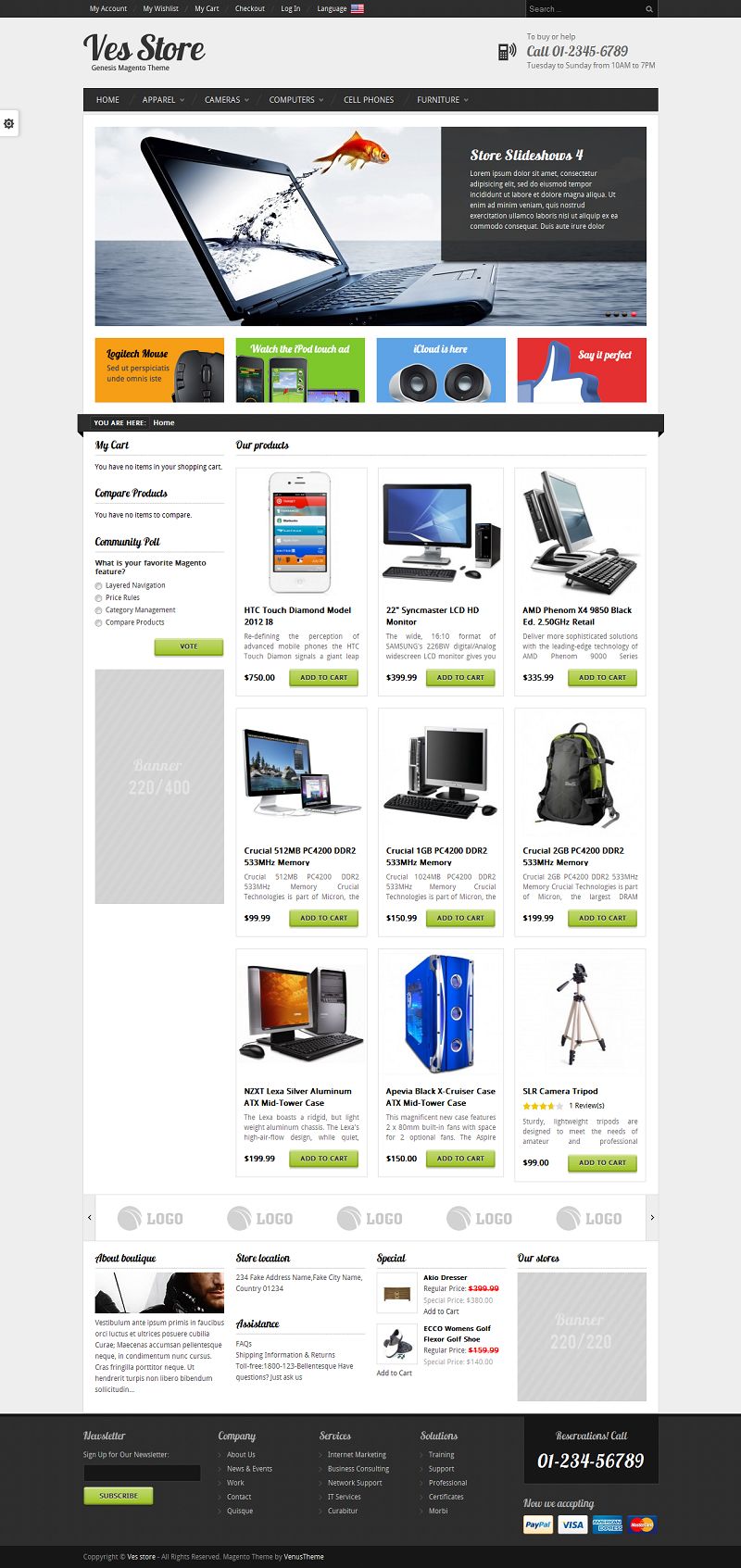 Ves Store is a Responsive Magento Theme with plenty of unique features to make your Magento Store more professional for selling products of Electronics Store or Hitech Store, Fashion Store, Gits Store, etc. The theme comes with 4 amazing colors and flexible layout. With Ves Theme Control Module you can easily control Template Direction, Changing Theme Color, Template Width via updating few configuration without hacking, customizing code.
The responsive layout support for all kind of Internet based mobile devices like iPhone, iPad, Tablets and Google Android devices.
Works with Magento versions 1.6.x.x, 1.7.x.x
Features:
4 Color Themes support (Silverlight, Dark, Darkblue, Darkred, DarkYellow)
Supports multiple layout options, configured within seconds from backend.
Template support for Jquery Effects.
Multiples modules suffix's build-in template for module styling.
Eseay change color, template width via the Ves Theme Control Panel Module
Support for native language file translation.
Impressive built-in content style.
Supports multiple layout options, configured within from backend.
Lightweight, modern and very fast-loading design.
W3C XHTML 1 .0 Transitional. W3C CSS Valid.
Fully compatible IE7 +, Firefox 2+, Firefox 3, Flock 0.7+, Netscape, Safari, Opera 9.5, Chrome
Price: $80.00
Remember:
Theme Forest
offers $2.00 Discount when you prepay money to your account before purchase.
Tagged with: magento 1.6 theme , magento 1.7 theme , magento electronics store theme , magento fashion store theme , responsive magento theme
---