Three Ways To Build A Forum
Forums are an excellent way to build a community, either connected to an independent, large website or on its own. A web forum is a terrific tool that if used wisely can help you reach your bravest business goals cost-effectively, saying nothing about the ability to find thousands of like-minded people. Luckily, because of the popularity of online forums, in today's software market you will find many affordable forum-building tools, and some totally free. Below I'm going to describe some of the best solutions.
Easy
The most traditional method to get a forum is a bit similar to building a standard website. First of all, you need to purchase a domain name and hosting plan for your future website. For those who are just discovering the field of web building, here some reputable domain registrars and web hosting companies: HostGator, BlueHost and GoDaddy.

Once you have chosen a domain name and got a hosting plan, it's time to decide on a forum building software. There are paid and free tools out there. The most popular free versions are phpBB and bbPress. While the former is literally packed with advanced features, the latter is much more easier to use and install. Once you have uploaded the software to your site in the desired directory, follow the providers' instructions to customize your forum.
Easier
The first option isn't for newbies, as it more often than not requires programming training. However, there are also decent Do-It-Yourself, all-in-one web services, like Vanilla Forums. They are less sophisticated. However, because services like Vanilla are fully engineered towards building powerful online communities, they are quite pricey. Take their 'Small Group' package, for example – $599/year! Of course, if you run a successful international website and you'd like to connect a Forum to it, Vanilla Forums can be a great place to accomplish this task. But if your ambitions are modest, and you're not likely to manage thousands of community members, you will certainly like the idea of building a forum using a free site maker.

The Easiest
Based on my personal experience, I think that the easiest way to build a forum is to make it using a website builder offering forum building tools, like uCoz. Firstly, because you will get everything you need in one place: hosting, domain name (either subdomain or the ability to attach a previously purchased web address), tools, handy widgets, technical support and many more. Secondly, because you can try the system free of charge (in case you opt for uCoz) and even keep your account free as long as you need (their free version never expires). Thirdly, because with this site builder you'll be able to grow your forum into something bigger: with the help of their inbuilt 'modules' you can add a Blog, E-Shop, Gallery and other pages to the existing web presence nearly effortlessly.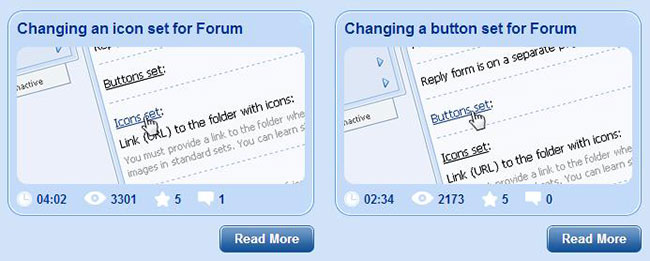 The only downside is that when using their free plan you'll have to display a pretty noticeable banner ad on your forum. To get rid of it you have to purchase one of their paid packages (starting at $3.09/mo). If your forum is dedicated to charity, education and other social projects, you can remove the ad free of charge.
Author Info:
Howard Steele is the owner of http://superbwebsitebuilders.com/. His goal is to provide you with the most unbiased, expert website builders reviews to help you select the optimal tool for your unique case. If there's something he's missing, let him know via his social accounts, he loves meeting new people.
Tagged with: web design tips , web design tools , website builders
---