EKHO - Premium FullScreen Joomla Template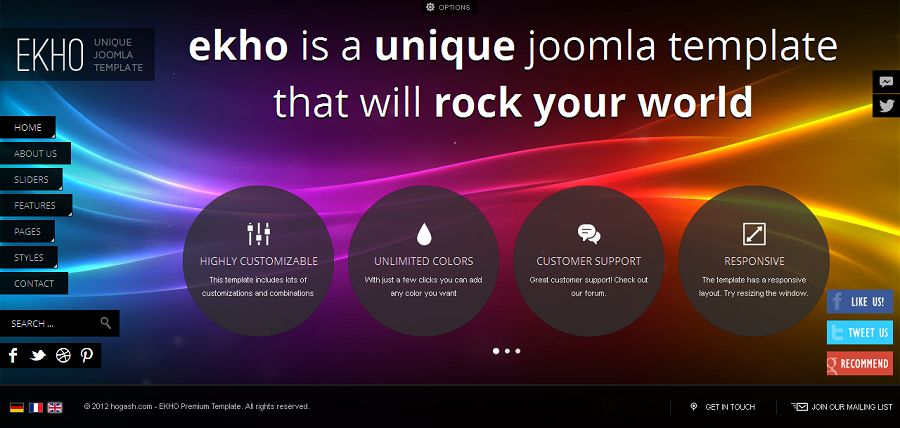 EKHO is a unique, awesome, creative, fullscreen template for Joomla 2.5. It has a fresh, modern look, with some nice transitions.
Features:
Unique Fullscreen functionality
Unlimited backgrounds and combinations! (image, slideshow, video, youtube, googlemap etc.)
Around 70 modules positions or various combinations
Lots of diffrent sliders:

FF Slider
Supersized slideshow
Jquery Grid Gallery
Sideways Fullscreen gallery
Sequence Slider
AsyncSlider
ImpressJS Slider
FlexSlider
NivoSlider
WowSlider (4 different effects)
Piecemaker 3D
3D Gallery (only on browsers that support 3D transitions & transforms)

Genious Portfolio Layouts (using Joomla API )23 custom modules created specially for this template!

Carousels Layout
Sortable Layout
Category Layout on multiple columns

23 custom modules created specially for this template!
Chrome Frame (for old Internet Explorer)
Shortcodes System
Responsive grid (skeleton's generic framework)
Custom pages designs
Pricing tables
Blog section based on the powerful K2 Component
Photo Gallery
FAQ Section
404 Page redesign
Offline Page redesign
Google Fonts support
Newsletter component
Built-in Prettyphoto lightbox with autopopup & open from link functionality
Custom QR Code generator
Dynamic shadows
Sitemap design included
Quick install & Standalone
PSD Files included
960px grid system
Great social media support!
Built in styles
& many others
Price: $47.00
Remember:
Theme Forest
offers $2.00 Discount when you prepay money to your account before purchase.
Tagged with: joomla business template , joomla photography template , joomla portfolio template
---