vBulletin Duo-Sync Bridge by Joomplace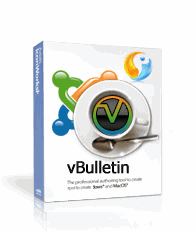 vBulletin Duo-Sync Bridge can be used for synchronization of Joomla with the famous forum software vBulletin 3.6.x, 3.7.0, 3.8 and 4.0. The main advantage of this joomla vbulletin bridge over other bridges is that our extension is installed to your system without modifying the core files of both your Joomla and vBulletin.
This will allow you to update your systems much easier than if you had them modified. This will allow you to install any other joomla components on your site without any limitations that can usually be found in other bridges.
Features:
You can switch between "Community-Builder" or "non-Community-Builder". So this version carries both versions. But if you don't use CB, it's extremely important that the CB support option was set to No.
You can choose the vB-Database manualy, so there is no need to have the forum-path aligned with the Joomla-path. You can synchronize the Joomla-DB with any vB-database no matter on which domain and connected with which database.
Nice thing: If you insert the vB-directory it automatically takes all the database-date from the vB-Config-File.
Pricing:
Single Usage – $49.00
Unlimited Usage – $69.00
---