Joomla Comparison Chart by Joomplace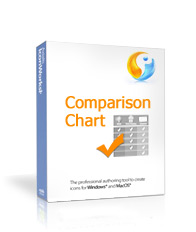 Using Joomla Comparison Chart you can use HTML tags to insert pictures, links or any other useful information in your charts! Developed using AJAX technology for hiding/showing areas in the chart and lot more.
Features:
You can separately create a number of rows/columns and then fill each with the content you require.
You can use HTML tags in your charts to insert pictures, links and other things.
You can mark each cell with color and one of three pictures (which can you can change by yourself in the component's files).
The user can hide columns to see your chart the best way.
Pricing:
Single Usage – $49.00
Unlimited Usage – $69.00
---