SolarSentinel Premium PhpBB3 Style by RocketTheme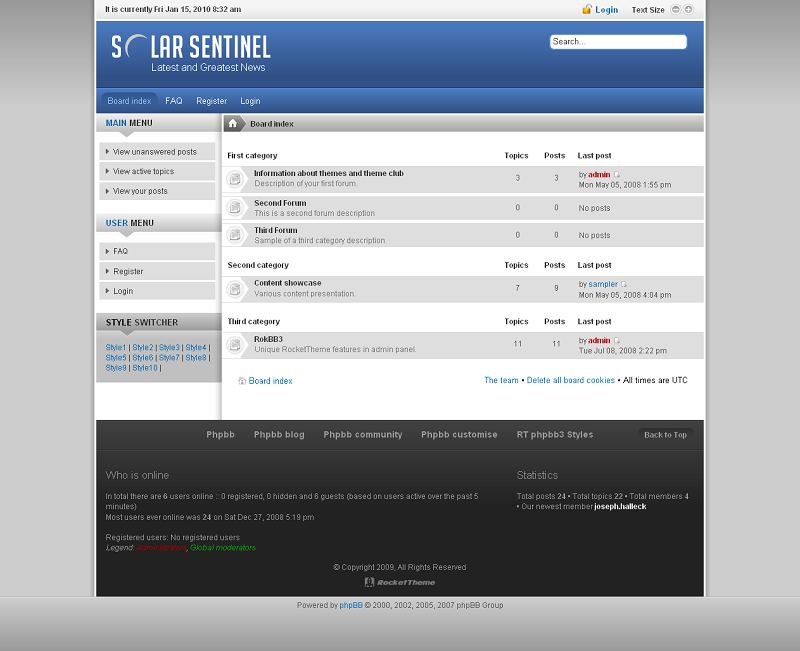 SolarSentinel is ready to impress, with its a sophisticated and SEO friendly layout and incredible flexibility make the style an ideal choice for any situation.
It is equipped with a fantastic array of features such as support for RokBB3 and RokColorChooser.
Features:
Source Ordered Layout
RokMoomenu
10 Preset Styles
FF3, Opera 9.6, Safari 3, IE6,7,8 Compatible
Color Chooser
Integrated RokBB3 Administration module
3 Customizable layout positions
2 Built-in Menu options
Adobe PNG Source Files Included
W3C XHTML 1.0 Strict
Purchase Options:
Join the RocketTheme phpBB Styles Club to download this style.
Get all of the 45+ professional phpBB3 Styles developed by
RocketTheme
for a small membership fees as low as $50
---