Perihelion Premium PhpBB3 Style by RocketTheme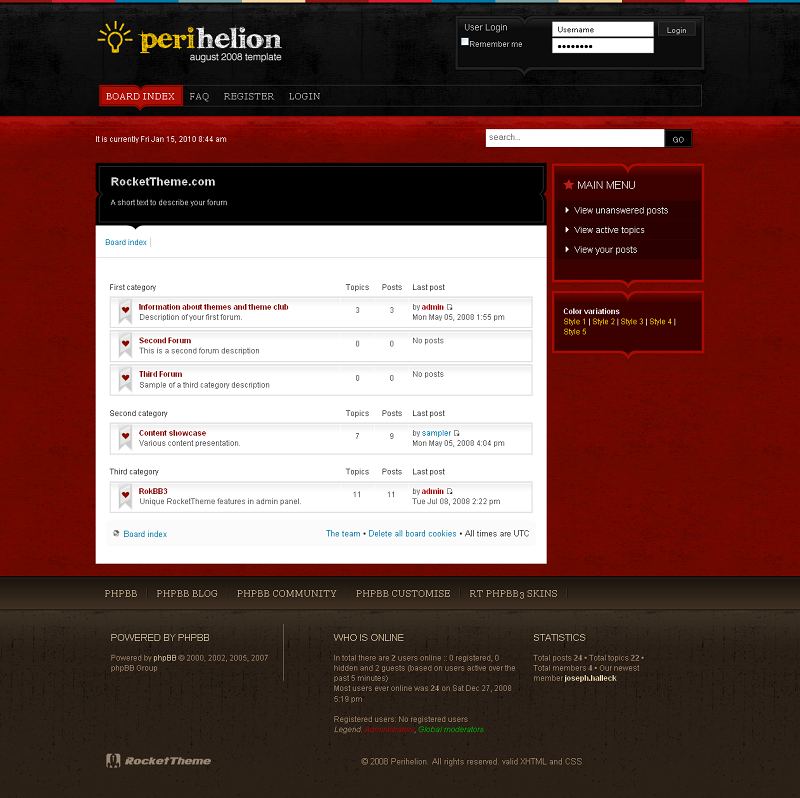 Perihelion phpbb3 style features an incredibly stylistic and unique design to add that special touch to your forums. Perihelion not only features a unique design, but it also offers the same adaptability and powerful features RocketTheme phpbb3 styles are known for. RokBB3 administration module, Simple Color Switcher, gives you ability to control your forum layout.
Features:
3 customizable layout options
CSS Based Tableless Design
Simple Color Switcher
5 Stunning imagesets
Fully configurable look and feel
Integrated RokBB3 Administration module
2 Built-in Menu options
Easily Integrate your Joomla! Menu
Source Adobe PNG Source Files Included
W3C XHTML 1.0 Transitional. W3C CSS Valid
Purchase Options:
Join the RocketTheme phpBB Styles Club to download this style.
Get all of the 45+ professional phpBB3 Styles developed by
RocketTheme
for a small membership fees as low as $50
---