Oculus phpBB Style, Premium phpBB3 theme from RocketTheme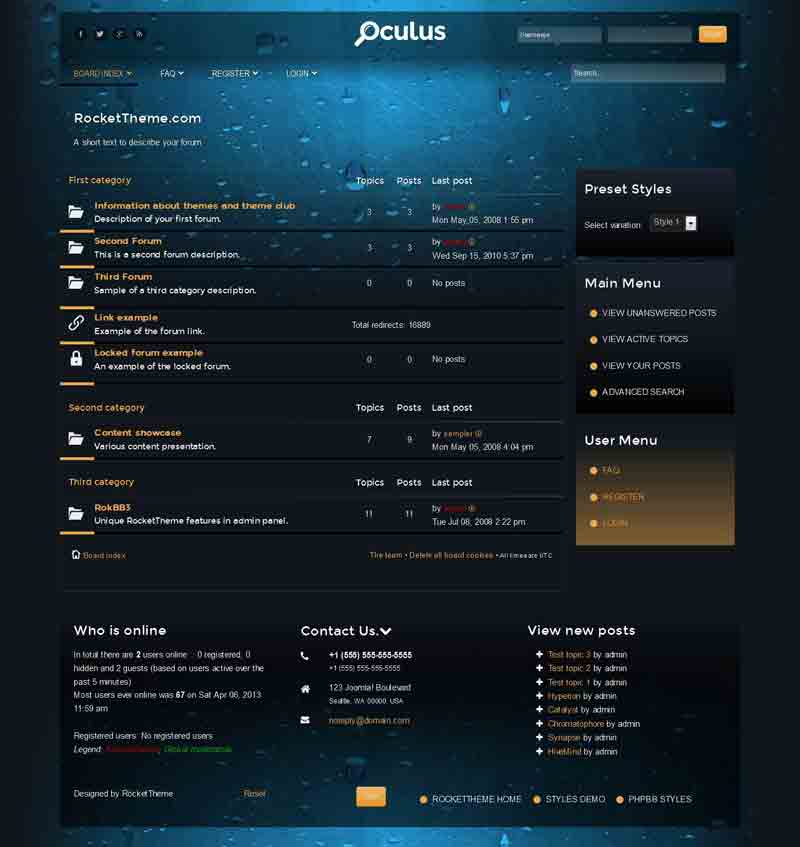 Oculus is a semi-transparent phpBB3 style from RocketTheme. This design allows rich and subtle full page backgrounds to filter through, to stunning effect. Developed with RokBB Framework, this template has a rich set of features including custom styling for forum layouts and font icons. Available in both light and dark style variations.
Features:
WebFont based Imageset and Icons
Google Web Fonts Support
Responsive and Fixed Layouts
10 Styled & Numerous Structural Module Suffixes
Semi-Transparent Design
RokNavMenu Exporter Support
RokBridge support
Demo settings applied automatically
8 Preset Styles
Display modules in Tabs
RokBB 5 Framework
phpBB 3.0.11 Compatible
Various Configurable Module Positions
LoadTransitions
Customizable layout options
FF, Opera, Safari 4, IE8+ Compatible
Purchase Options:
Join the RocketTheme phpBB Styles Club to download this style.
Get all of the 45+ professional phpBB3 Styles developed by
RocketTheme
for a small membership fees as low as $50
Tagged with: responsive phpBB style
---