Metropolis phpBB3 Style, Premium phpBB3 theme from RocketTheme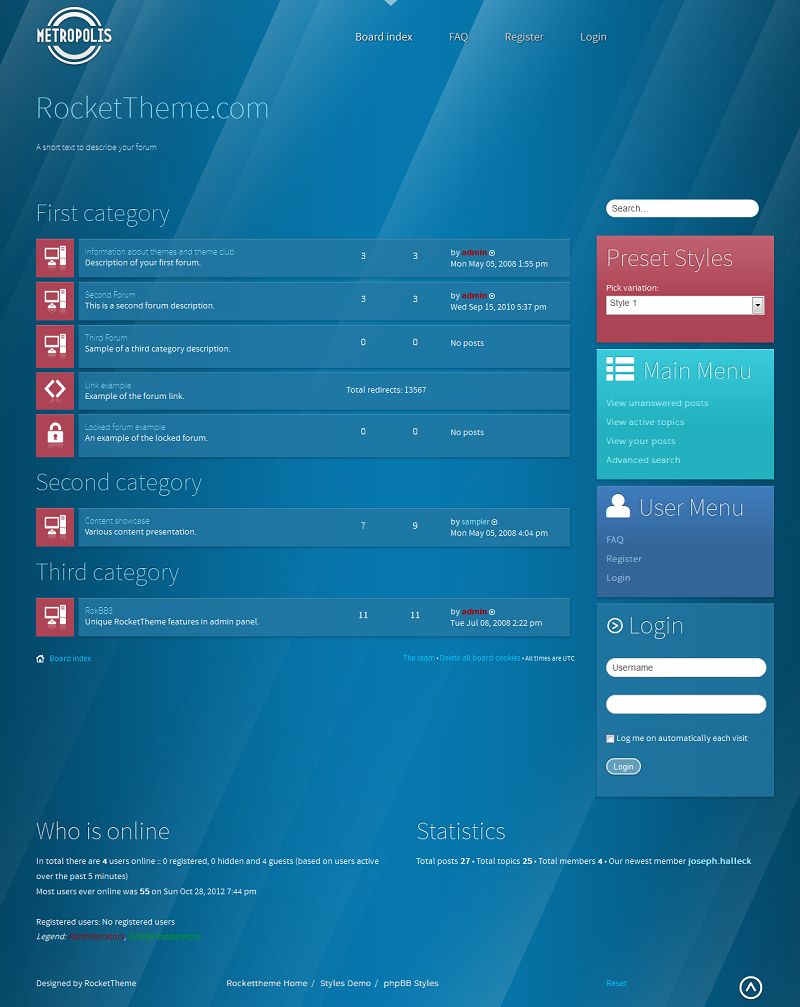 Metropolis is the December 2011 phpBB3 Style from RocketTheme. This design is elegant with responsive layout powered by RokBB 5 Framework. Metropolis combines simple color schemes and shades that compliments the differently styled content setups. There are 10 stylistic module class suffixes that will help you to completely redesign the whole forum look. You can easily integrate your Joomla website and phpBB forum with RokBridge.
Features:
Responsive Layout
10 Styled and 25 Structural Content Suffixes
Community driven RokBridge support
Demo settings applied automatically
10 Preset Styles
Display modules in Tabs
Tabs Responsive Layout
RokBB 5 Framework
Extensive configuration options
phpBB 3.0.11 Compatible
Various Configurable Module Positions
LoadTransitions
Customizable layout options
FF, Opera, Safari 4, IE8+ Compatible
HTML5, CSS3, LESS CSS
Purchase Options:
Join the RocketTheme phpBB Styles Club to download this style.
Get all of the 45+ professional phpBB3 Styles developed by
RocketTheme
for a small membership fees as low as $50
---