MetaMorph Premium PhpBB3 Style by RocketTheme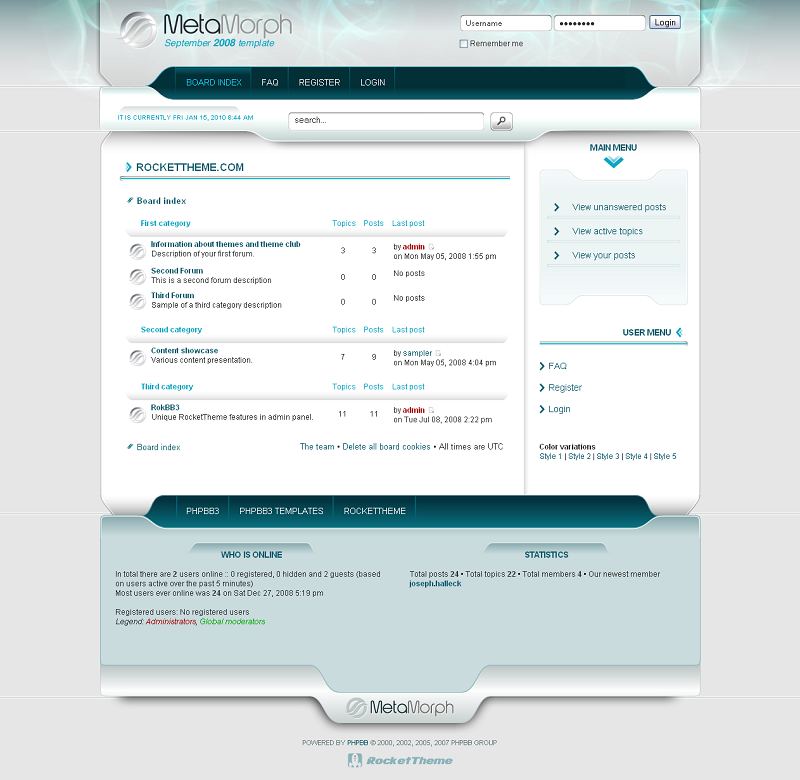 MetaMorph phpbb3 style features a unique adapting design without sacrificing flexibility. Forums needing that extra graphical touch can take advantage of MetaMorph's beautiful design, as well as it's adaptability and built-in power.
MetaMorph offers well known powerful features like Animated RokMooMenu menu,RokBB3 administration module, and 3 layout options perfect for providing maximum control over your site's content presentation.
Features:
Simple Color Switcher
Unique design and layout
CSS Based Tableless Design
3 customizable layout options
6 Stunning imagesets
Fully configurable look and feel
Integrated RokBB3 Administration module
Easily Integrate your Joomla! Menu
2 Built-in Menu options
Source Adobe PNG Source Files Included
W3C XHTML 1.0 Transitional. W3C CSS Valid
Purchase Options:
Join the RocketTheme phpBB Styles Club to download this style.
Get all of the 45+ professional phpBB3 Styles developed by
RocketTheme
for a small membership fees as low as $50
---