Lumiere phpBB Style, Premium phpBB3 theme from RocketTheme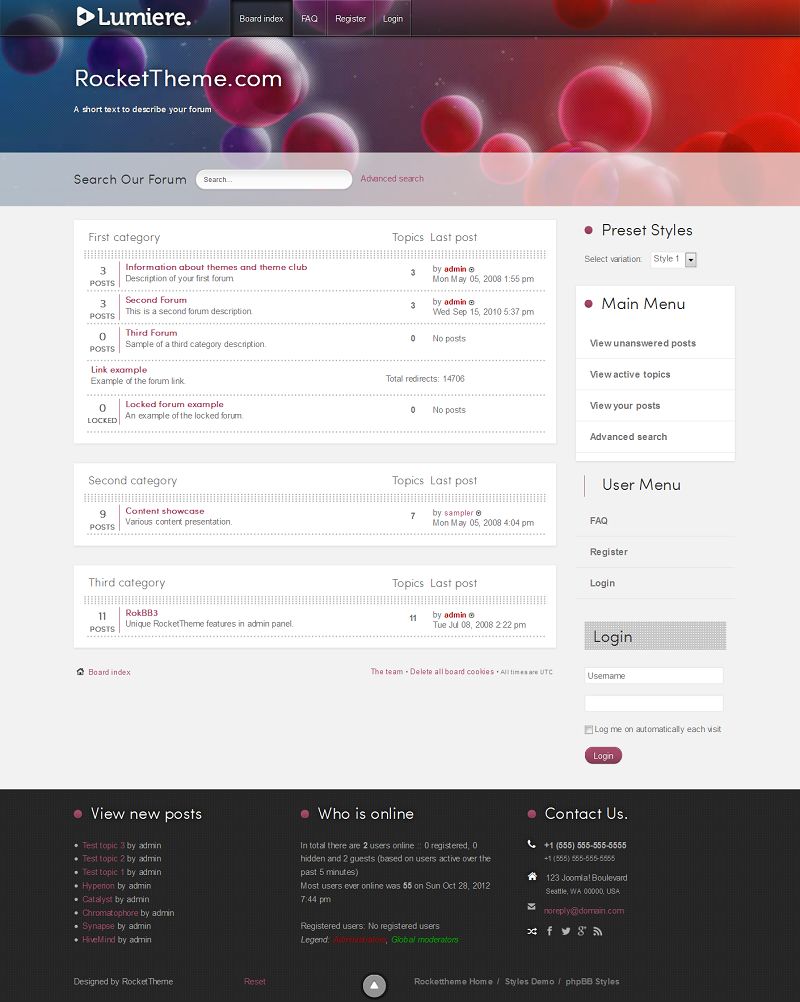 Lumiere is a responsive phpBB3 style with a modern approach, rich, subtle and sophisticated visuals. This theme uses HTML5 to offer video functionality in the header, to create a dynamic and interactive user experience. Powered by RokBB Framework this style comes with number of design features such as styling for various layout modes. Lumiere's responsive grid system is designed for desktop, tablet and smartphone systems, each with minor modifications to ensure compatibility in each mode.
Features:
HTML5 support for displaying videos in the header
Responsive and Fixed Layouts
8 Styled & Numerous Structural Module Suffixes
Extended configuration options
RokNavMenu Exporter Support
Community driven RokBridge support
Demo settings applied automatically
9 Preset Styles
Display modules in Tabs
Tabs Responsive Layout
RokBB 5 Framework
phpBB 3.0.11 Compatible
Various Configurable Module Positions
LoadTransitions
Customizable layout options
FF, Opera, Safari 4, IE8+ Compatible
HTML5, CSS3, LESS CSS
Purchase Options:
Join the RocketTheme phpBB Styles Club to download this style.
Get all of the 45+ professional phpBB3 Styles developed by
RocketTheme
for a small membership fees as low as $50
Tagged with: responsive phpBB style
---