Iridium Premium PhpBB3 Style by RocketTheme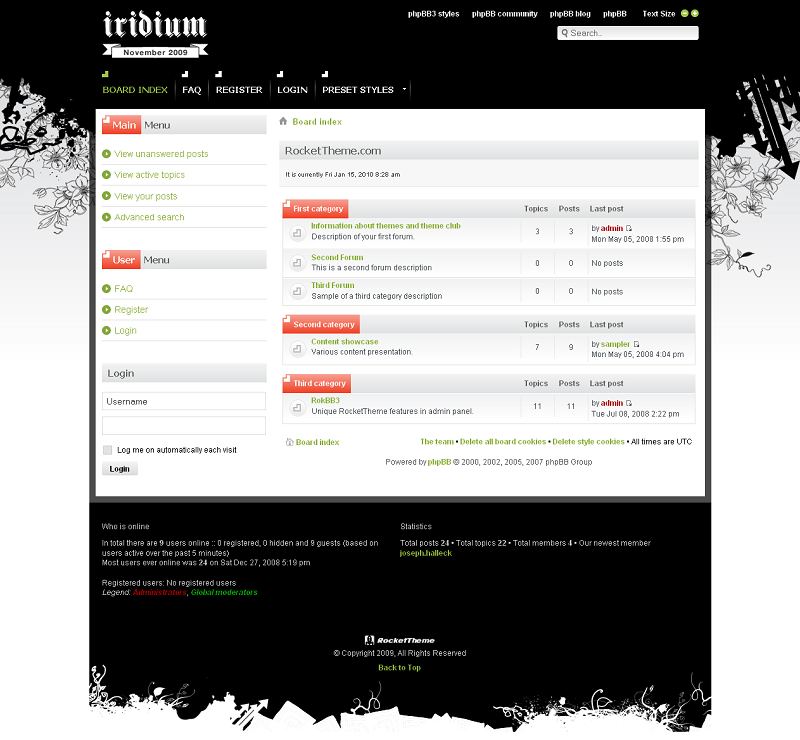 Iridium is a theme bursting at the seams with features such as the 6 unique style variations and the standard, high performance and adaptable framework.
The template is perfect for a content driven site, that wishes to have some flair. Its flexibility allows you to select the level of graphical intensity for your elements, from the style variation and the combination choice . A truly powerful design.
Features:
6 Style Variations
18 Background Combinations
SEO Optimised Layout
Javascript Form Styling
Fusion Menu
RokNavMenu exporter support
Integrated RokBB3 Administration module
3 Customizable layout positions
Adobe PNG Source Files Included
FF3.5, Opera 9.6, Safari 4, IE6,7,8 Compatible
W3C XHTML 1.0 Strict
Purchase Options:
Join the RocketTheme phpBB Styles Club to download this style.
Get all of the 45+ professional phpBB3 Styles developed by
RocketTheme
for a small membership fees as low as $50
---