Fracture phpBB3 Style, Premium phpBB3 Style from RocketTheme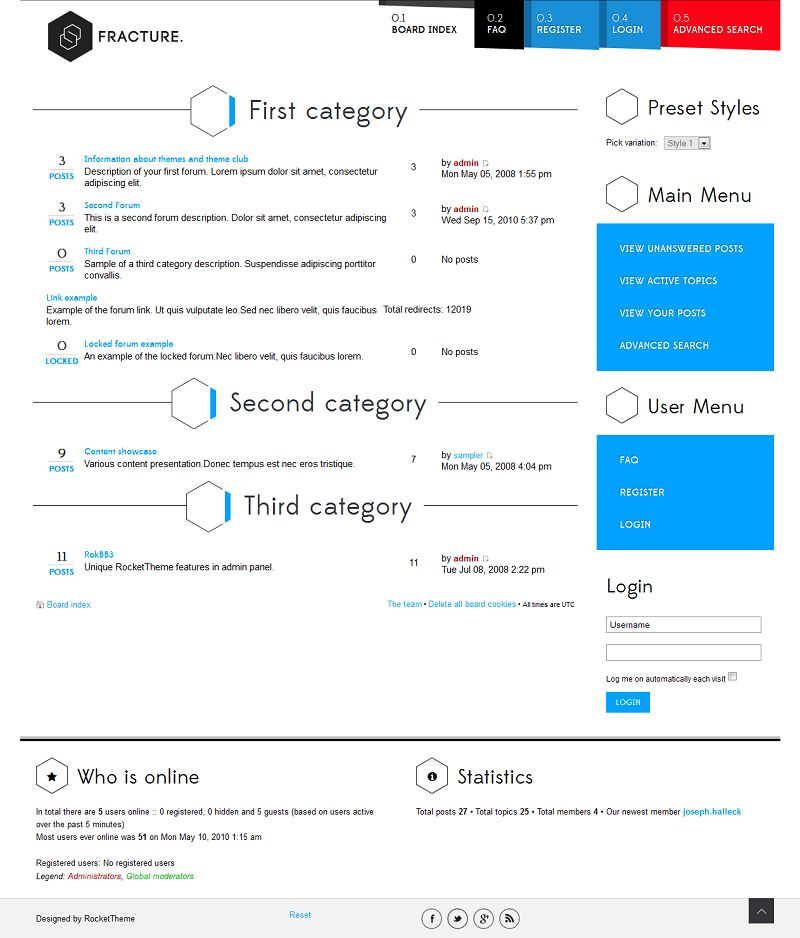 Fracture is a premium phpBB3 style from RocketTheme club. It is the first phpBB style that includes RocketLauncher. It comes built with the refreshed RokBB framework, featuring a responsive layout core and optimized coding. Fracture template focuses on a clean and minimal design with a unique overlay system for stunning results.
Fracture phpBB3 style uses LESS, a dynamic stylesheet language, that extends CSS with dynamic behaviour. Modules further benefits from custom styling, adding rich focus to a conservative design backdrop.
Features:
Responsive Layout
8 Preset Styles
Display modules in Tabs and Headlines
Tabs and Headlines Responsive Layout
Updated RokBB Administration Module
Extensive configuration options
phpBB 3.0.11 Compatible
9 Styled and 25 Structural Module Suffixes
Various Configurable Module Positions
LoadTransitions
Customizable layout options
FF, Opera, Safari 4, IE8+ Compatible
HTML5, CSS3, LESS CSS
Purchase Options:
Join the RocketTheme phpBB Styles Club to download this style.
Get all of the 45+ professional phpBB3 Styles developed by
RocketTheme
for a small membership fees as low as $50
---