Building Online Stores with osCommerce: Professional Edition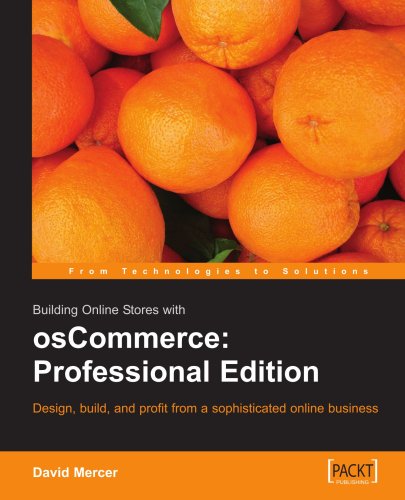 Learn how to design, build, and profit from a sophisticated online business.
Install, configure, and customize osCommerce
Enhance and modify osCommerce
Learn from a sample, fully functional site packed with useful features such as gift certificates and discounts, cross- and up-selling, RSS feed aggregation, enhanced product image handling and bug fixes.
In Detail
The book can be read from front to back, but each chapter is self contained so the reader can skip chapters to read those that they are interested in. Each chapter will move from basic to advanced where applicable and also relate what the administrator (reader) is doing to how this affects what the client sees on the site.
So, for example, the customization chapter will start off with a discussion on the concept of design and how to relate this to your business. Once the reader has a clear idea of what they need to do, we look at some really simple changes such as modifying the site's language, before moving to some advanced modifications which may involve some PHP programming. At the same time the discussion will demonstrate how the changes made affect the site.
Throughout the book, much consideration is given to the "right" way to doing things. Readers will have the great advantage that they begin, from the very start, doing things properly. This will save them a lot of time and effort in the years to come as they build on and modify their site. Utilizing best practices and sound methodologies is a great asset for beginners and experienced users alike.
At all times, the coverage given in this book pays homage to the fact that, ultimately, the reader has a business goal in mind. To this end, the material never gets bogged down in technical issues or long discourses, but rather focuses on what is practically important for the online business and then moves on. To complement this, there are plenty of suggestions and hints as to how and where to look for further information.
Who this book is written for?
This book is written for anyone who:
Already uses OSCommerce
Would like to use OSCommerce
Would like to make a website for their business
Is charged with administering, running and maintaining an OSCommerce site
Is interested in learning how an eCommerce application is created and maintained
Price: $38.32
Buy Now from Amazon!
---